What is WordPress Hosting- You all must have heard about the blogging platform WordPress. It is an open source free to use application which is used to create your blog. Its is based on PHP/MySQL framework and it is very easy to customise the blog as per your business needs. WordPress is by far one of the most popular Content Management Systems (CMS) nowadays across the globe. You are about create your blog and change the look and feel of it from your interface. The popularity of WordPress is because of the features such as wide range of plugins, extensions, Widgets available which add a dynamic look to the blog. There are a lot of options available for WordPress themes which are free as well paid. The community of WordPress developers is very huge due to the popularity of the platform.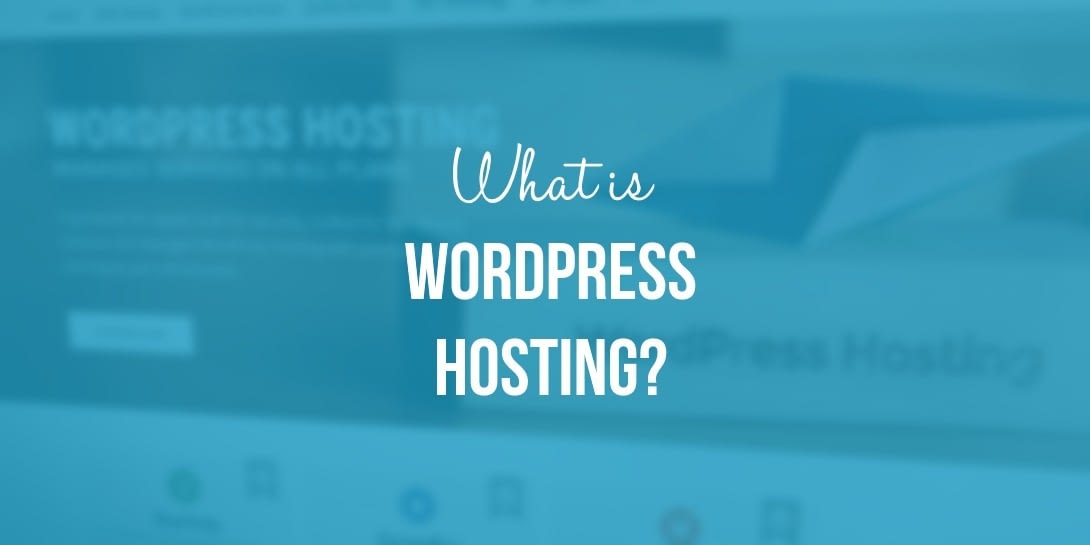 Why Choose WordPress?
WordPress being one of the most popular blogging platform is used by many individuals as well as organisations to run their blog or websites. WordPress counts for around 25% of the total market share of overall websites across the globe. This is because it is highly flexible, scalable, easy to use and extremely customisable as per your needs. Using WordPress is as simple as using a word document, you simply choose a theme you like, customize it as per your requirements, and add content, plugins of your choice, that's it. With the use of abundant amount of plugins, extensions you can add any functionality in just a matter of click and hence giving you blog/website a dynamic look.
Some of the many features are listed below:
- Very good option for Small/medium/large business types as it covers everyone
- Simple and easy to use interface

- Easy installation, most of the web hosting providers offer one click installation
- Extremely customizable so you can give the look you wish to and add any functionality of your need with interface as well as by modifying the code
- Plethora of themes/skins available which are free to use. Some organisations offer premium themes as well which are very cheap to be afforded even for individuals.
- Does not require any technical knowledge to get your blog live
- Lot of web hosting options are available at very affordable pricing
- Serves the purpose of content management system so you can easily add, pages, posts, content etc. with ease
- A lot of plugins, extensions and widgets are available to be used. You can give any sort of dynamic feature to your blog such as adding contact form, sliders, comparison of products/services, SEO plugin to help you with your website SEO and many more
- A large group of active developer community to extend help to you in case of any support needed
- Frequently updated by the community

WordPress Hosting Features to Look For:
There are lot of web hosting options when it comes to WordPress hosting. Almost every web hosting provider offers web hosting plans and some are specialised hosting provider for WordPress. Although any web hosting provider that supports WordPress hosting is just fine for you however there are some other things as well that you should pay attention to while going for web hosting plans for your WordPress. Below are some the points that you should take care of:
- Should be scalable: the web hosting plan initially you take may be just fine for you however as the traffic grows on your website/blog you should be able to opt for higher plan that fits into your requirements to cater to higher traffic loads
- Back-Up: the provider should offer daily backups for your website
- Support: WordPress-specific support
- Auto Updates: Automatic updates should be available for your themes and plugins
automatic backup before updates
- Staging server
- Server caching
- Content delivery network (CDN)
- Premium plugins to expand base functionality
- Premium themes to make your site look unique
- Easy to use interface
WordPress Installation
WordPress is a complicated piece of software that is able to do lot of things such as running blogs to forums to ecommerce store etc. So installation of WordPress is not an insignificant matter so it all depends on your host as how easy would it be for you install the same. So it makes sense for you to go with a host that offers best in terms of WordPress hosting experience.
While some of the hosts do provide a simple one click installation and offer easy management of your hosting so that you are able to focus more on your real business rather than getting into trouble of installing it own your own with some technicalities involved. So some of the hosts do provide more control and some add-on features while others just offer you to manage with less feature and less control.
So if you are a WordPress user who is looking for more control and better add-on and features then you need to look a host that offers you to do this stuff. On the other hand, if you are just focused on creating content then you will need simple management tools with hosting.
So WordPress installation can be done using various methods. There are three ways you should be able to install WordPress notably manual installation, one click installation, installation by the host. Let's have a look at all three below:
Installing WordPress Manually
This is the option for people who know technical stuff and don't mind doing extra efforts for the same. WordPress manual installation is available with all host that have Linux hosting. First of all, you will need download the latest WordPress version from online website for WordPress. You will receive a zip file which needs to be unzipped first and then using FTP you need to upload the files on your server. WordPress runs you through the setup process and once the setup is complete then you will need to point your domain to your site.
The overall installation process is not very difficult however you need to have knowledge of as how MySQL works. If you are quite familiar with the web hosting, then you should be able to navigate your way to install own your own else it may be difficult for you to and you may have to ask for support from the host or you may need to read guides to be able to install.
The overall process of installation is not very time consuming and may take only 10 minutes. However, that depends on as how much you are experienced with WordPress. Advance level of users can do the installation even in five minutes so if you are a novice user then can be messed up with the installation due to some minor mistakes etc. This is the reason that many of the users (even the advance users) do opt for the option which is easy to be used, such as one click installation.
One-Click Installation
The above mentioned option of manual installation is for pro users or technically inclined people however most of the users using WordPress are non-technical users so not all of them are able to do manual installation. This is why most of the companies do provide one click installation option so that you are able to install WordPress within a matter of click.
Using this option, you are able to install WordPress with just one click. This does not require any technical knowledge at all so you don't have to interact with server using FTP software. For novice users this option is best as it is easy to use and within no time you are able to go live with your blog.
This function is available with almost most of the hosting providers, this is possible with the use of third party software such as Fantastico, Softaculous, or MOJO Marketplace. So you need to check with the hosting provider if they offer such function or not.
If you are looking for advance setup, then you need to go for manual installation as you are able to control your WordPress hosting environment more customised.
Pre-Installed WordPress
There are some hosts that do provide the installation for WordPress which is auto process. When you login for the first time, the WordPress installation starts automatically. While some other hosting providers do provide installation on request. You just need to call the web host or you can raise support ticket and the support team will do it on your behalf.
Bluehost is one the companies that provides the feature of auto installation to their users.
What Else You Need to Look for with WordPress Hosting?
More or less the WordPress software runs the same irrespective the web hosting being used. It can be run on any web host provider which makes use of Linux hosting. So what is that distinguishes the web hosting providers that you need to look for while choosing hosting provider. There are many other features that you need to check with hosting provider such as the management and the maintenance of your blog. Let's shed some light on what are these features:
- WordPress Updates: Once you have your WordPress blog or website up and running, you need to have your WordPress code updated with time as soon as there is any new release by the WordPress. This is required because the older code may attract hackers and spammers so it is quite important for you to update the code.
WordPress code is updated regularly by the WordPress developers' community and the release is done official on the WordPress website. You may receive an email notification as well for the same.
All these updates are either updated automatically by the hosting provider or you will have to do it own your own. It is important to note that you need to take backup of your website before applying changes in the event something goes wrong.
Many hosts do provide the feature of taking backup and then apply updates automatically.
Siteground do provide this feature so you can have a look at that.
Apart from the regular WordPress code updates, plugins and extensions may also need updating as some of the plugins need to be updated as per the new WordPress codes or to add new feature in the plugin or to improve the performance etc.
- WordPress- Specific Support and Management: it is better to go with hosting provider that offers WordPress specific support and management of your website/blog. Since the WordPress software is quite complicated and big software so it makes sense that you have web host who specialise in this. You may run into problems even if you have done everything right so if you have WordPress experts to offer help to you, you are in good hands.
- Uptime Guarantee: this is one of the great features to look at. Usually web hosting providers guarantee 99.9% uptime however you need to check reviews for the particular as they really offer such uptime or they are just faking it.
Managed WordPress Hosting?
Managed WordPress hosting, as the name suggests is a step up from the shared hosting and offers complete management as well as maintenance going forward. You can avail automated services such as backup of your website on regular basis, updating codes, updating plugins etc.
This is best option for people who do not want to get into all this stuff as they have limited resources or can't get into trouble of managing all this. This type of hosting will save user a lot of time and results into more managed, updated and secured WordPress codes.
There are many WordPress hosting companies that provide managed service for WordPress hosting. Some of the big names in this space are WP Engine, Page.ly, Kinsta, SiteGround and InMotion. All these hosting providers offer managed WordPress hosting plans for you WordPress blog.
Benefits of Managed WordPress Hosting
It is quite obvious that there are lot of benefits of going for managed WordPress hosting. the most important benefits are:
- You will have better WordPress support and since the support staff will be more technical so you are able to avail services in most critical cases.
- Saves a lot of time as you don't have to involve yourself with issues such as updating codes etc.
- You can focus more on your core business rather than getting involved with technical stuff
- You don't have to worry about the issues that may arise due to old version
Things to Take Care of with Hosting
There are something that you need to take care of which are not related to do with performance or anything but your own feasibility to be able to get I touch with the hosting provider.
Since you may need to get in touch with the support team of hosting provider, you need to check the timings for the support and does it fit into your time zones or not.
You also need to check as what are channels available for support, is it over the phone or online chat support or ticket system etc.
You also need to test your web hosting provider as they provide trail period to check. So you should be checking with the support whether they can provide deep technical support or just provide superficial support which is not in their scope.
Band Width and Disk Space: this is another feature to look into as how much space or bandwidth you will have with the hosting provider. The lower the bandwidth the less is the page download speed. The disk space is the space that your website will be stored on so you need to make sure that the space is sufficient enough to cater to your need.
Bandwidth is the space that is occupied by the the serving of the website or how much space is acquired by the page when it is being served. The more the bandwidth the better the downloading speed will be.
What Are the Pros and Cons of WordPress?
Pros
- It is Free to use as it is open source software
- Easy to use and easy to install
- Lot of hosting plans available from many companies
- Highly scalable, so your website can grow without performance problems
- Easy to use interface and you are able to use it without any issue
- You can use the interface to change the look of your blog by the use of Visual Composer. You can completely give look of your own choice
- A range of themes available for free to use
- A range of plugin and extensions available that give a dynamic look to your blog o website
Cons
- Not all the themes are free to use. Free ones may be over used so it may look quite general.
- It is not ideal for more advance use cases such as ecommerce website, web apps etc.
Final Thoughts
WordPress is one of the most popular blogging platform that is used globally by many users who may be individuals or could be organizations. WordPress counts for around 25% of the websites market share all across the globe. Before you go ahead with WordPress hosting plans you need to check well in advance or plan in advance as what you website is for and what do you expect to in terms of traffic so you can choose your plan accordingly.
There are many web hosting providers who specialise in WordPress and provide managed WordPress hosting service.
WordPress Hosting Frequently Asked Questions
What is WordPress?
WordPress is one of the most popular blogging platform which is built on PHP/MySQL framework and is free to use as it is open source platform. It is a sort of content management system that can serve the purpose of CMS using an easy to use interface. With the use of WordPress, you can make your website live within no time and without even the need of technical knowledge.
What is the reason of popularity of WordPress?
WordPress is by far the most advanced and mostly used blogging software which is offered as service by every web hosting provider on the planet. The reason for its popularity is due to many reasons:
- It is free to use
- It comes with a lot of extensions, plugins and widgets which can be added or removed as and when you desire
- There are lot functionalities which comes with WordPress such as you can run forum, ecommerce store or a community platform as well.
- You can handle media files such as images, video with an easy to use tool
- It is quite easy to install
What's the difference between WordPress, Joomla, and Drupal?
Joomla and Drupal both are CMS applications. Joomla can be considered to be a close competitor but Drupal is better if you are willing to develop your own application. WordPress is most commonly used and its community is much larger and support available is also good.
How to connect the domain name to WordPress?
In order to be able to point your domain to web hosting then you need to add DNS setting of your web hosting account with the domain account. You can ask your domain company as well for the help. Generally it takes around 24-48 hours for the DNS changes to come into effect.
What are other blogging platforms?
Although WordPress is the most common and popular blogging platform yet there are some other blogging platforms that are free to use and are good option to go with if you are willing to have a WordPress blog. Some of the popular platforms are Blogspot (blogger.com), Medium, Joomla, Drupal, Tumblr etc.
What may restrict the use of WordPress?
Although WordPress is quite flexible yet there may be cases where you are not able to develop application which is not covered with WordPress. It may involve some high level of applications such building full fledged ecommerce website or more advance web applications that require full customisation. In such cases you need to go for Drupal or Joomla etc.
In some cases, you may not require all the features offered by WordPress as you need to make few simple pages live, in such cases website builder will be just fine.
What are the hosting specifications for WordPress Hosting?
WordPress requires a web server running PHP 5.2.4 or greater and MySQL 5.0.15 or greater.
All the web hosts running Linux server can offer WordPress hosting.
What is Managed WordPress Hosting and Why should I use this?
As the name suggest Managed Wordpress hosting offer the complete management of your WordPress hosting be it updating your WordPress code, taking backups, updating extensions or plugins etc. They provide the installation service as well as their part of hosting plan.
You need to go with Managed WordPress hosting if you do not want to take the headache of updating WordPress or any other issues which may arise later on.
What is Wordpress Premium?
WordPress Premium is a service provided by WordPress.com that offers hosted WordPress websites.
It may not be wise to with WordPress premium as you may find it expensive than many other plan offered by various hosting providers.
What's the difference between hosted WordPress and self-hosted WordPress?
There are two WordPress website notably WordPress.com and WordPress.org where the WordPress.com offers hosted WordPress wherein you can use your own domain or have a sub-domain with wordpress (example.wordpress.com). The later (WordPress.org) offers self hosted service which means you will have to install the software on your own with your hosting provider. You can download the software from WordPress.org.
What are the advantages of self-hosting?
With self-hosting you are able to choose your own plan that matters to you. You can go with better features which are not provided with the hosted WordPress.
Do I need to know the coding in order to use WordPress?
NO. It is not required that you know the coding as WordPress offers a simple easy to use interface wherein you can change the look and feel of your blog without changing any code. You can add any plugin or extension you wish to use.
WORDPRESS REVIEWS